TRUVOICE SOFTWARE
Get more from your buyer feedback.
With our TruVoice platform, you'll get a 360-degree view into why you win and why you lose. With actionable and intuitive insights from your specific buyers, your organization will discover the keys to increasing win rates and revenue.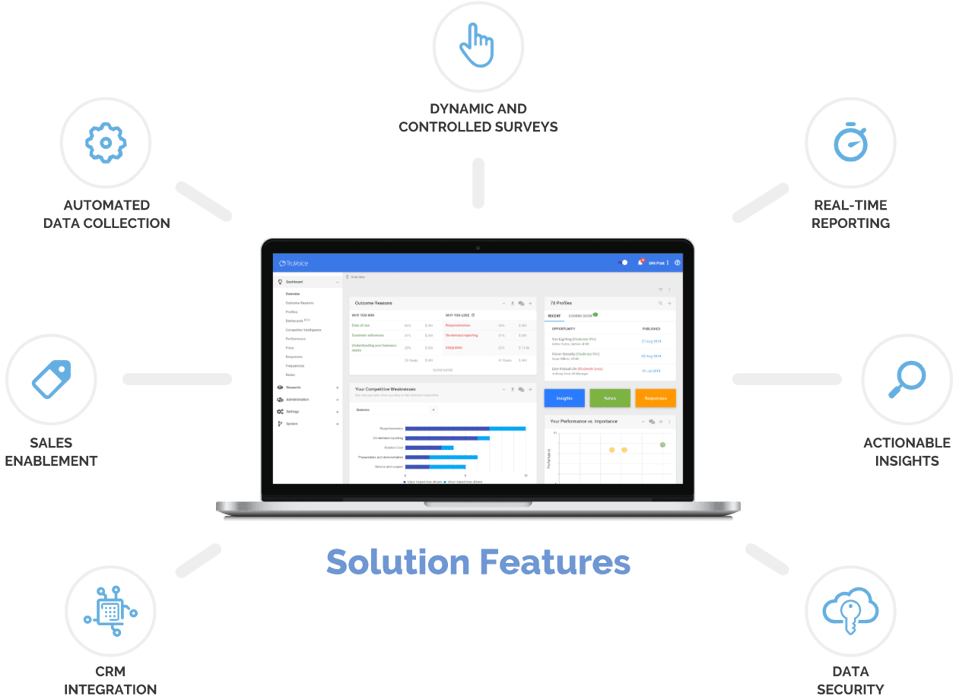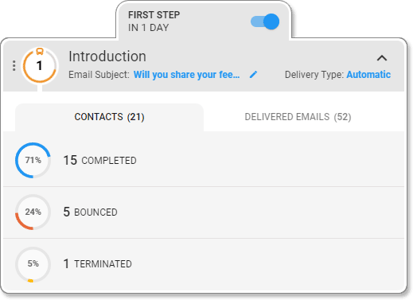 Automated Data Collection
Eliminate the manual work by automating your program from start to finish.  
TruVoice collects more unbiased buyer feedback to give you a complete view into why you win and why you lose. Take your win loss, sales experience, or customer experience analysis a step further by tapping into any phone interviews conducted to hear call recordings, see transcripts, and discover key insights from your buyers. 
All collected feedback is compiled and organized within your secure TruVoice account automatically, in real-time.
Dynamic and Controlled Surveys
TruVoice allows for dynamic and controlled collection of buyer feedback based on who is involved in the purchase decision. Simply choose which contacts you'd like to collect feedback from and let our automated, intelligent surveys send with dynamic questions based on deal outcome, competitive result, deal type, and more.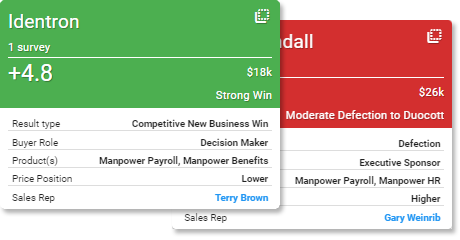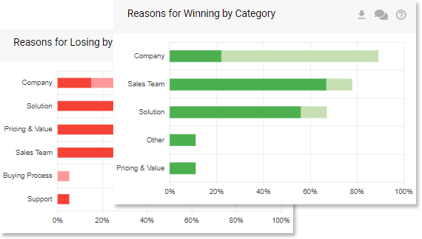 Real-Time Reporting
Access real-time, digestible reports that were built to answer your burning questions. See overall buyer insights or drill down to see insights by rep, industry, buyer persona, and more. Easily share your findings with stakeholders or front-line sales reps to get buy-in for any changes to processes, product, or messaging that will help you increase win rates.  
Get personalized dashboards for each rep so that sales leaders can customize trainings and reps can better identify what it takes to win more deals.
Actionable Insights
Every data point of buyer feedback uncovers specific reasons for a deal's outcome. TruVoice organizes and analyzes these data points to give you actionable insights into how your company can improve win rates – as well overall market positioning and sales experience.
Get automated insights for topics including:
Top reasons for wins and losses
Competitor comparisons (Battle cards)
Sales experience
Customer experience
Product/service perception
And more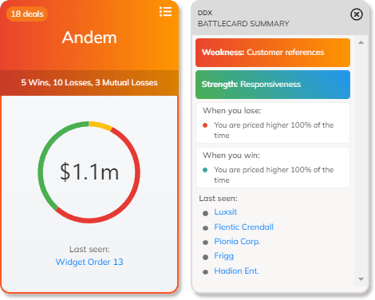 Competitive pricing for the best services to help you increase ROI.
Sales Enablement
Your sales rep doesn't truly know why a deal is won or lost. TruVoice empowers front-line sales reps to better Understand deal outcomes and adjust strategies in order to win more deals.
With built in tools like sales win loss dashboards and competitive battle cards, your sales reps can speak more confidently to prospects and sales leaders can better identify weakness is sales experience, process, product positioning, and pitch.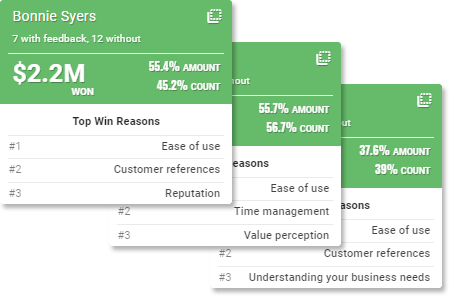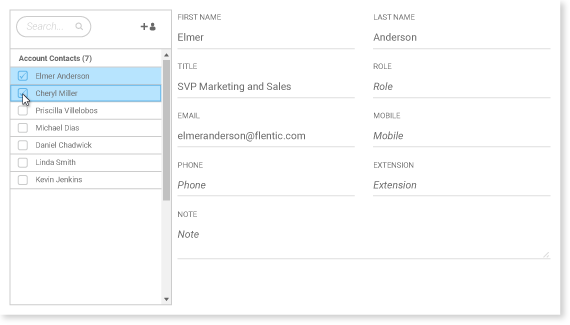 CRM Integration
TruVoice fits seamlessly into your CRM so that when a deal is closed, the rep is immediately prompted with a list of contacts to submit for feedback. Within a few clicks, you'll be able to gather buyer feedback for all your deals without interfering with the rep's selling activities.
Currently available for Salesforce and Microsoft Dynamics (More coming soon!)   
Data Security
We take your buyer data seriously – that's why we've taken every precaution to keep your data safe. Primary Intelligence  has successfully completed the  AICPA Service Organization Control 2 (SOC2) Type 2 audit and is compliant at the highest level. The security of your data will continue to be a top priority for us.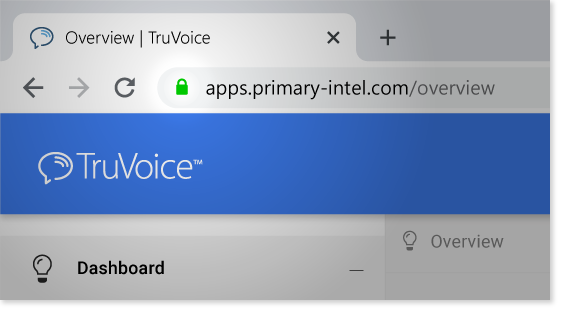 Take Your Buyer Feedback Further
Additional services from Primary Intelligence
Buyer Interviews
Our team of win loss experts will conduct live phone interviews as part of your win loss analysis. Get access to call recordings, call scripts, and honest feedback from select buyers so that you can further understand your buyer's reasoning behind a purchase decision.


Discovery Sessions
Need some additional guidance when it comes to win loss analysis? Our team has you covered. We'll dive deeper into your buyer feedback to find the answers to your burning questions on why your reps are winning and losing. We'll review these insights with you so that you can make adjustments with confidence.
Diagnostic Reporting
TruVoice has detailed and comprehensive reporting built in, but if you're needing help compiling additional reports, our team is here for you.




How do you gather insights from my deals?
Through automation, we collect first-hand feedback from all your deals so that you can get a 360-degree view into why your reps win and lose. When a deal is closed - won or lost - we'll trigger a dynamic, time tested survey to the appropriate contacts to help you get unbiased feedback about your sales experience, product, and service.
Can I personalize my program?
Yes! After 20+ years of running deal analysis, we know what questions to ask to get unbiased feedback from your buyers. We start with our time-tested surveys and interview guides to help increase response rates and layer in customization based on persona, deal-type, product, and other deal criteria.
How long does it take to start seeing deal feedback?
Once your program is launched, you'll be able to see your buyer feedback immediately after a response is submitted.
What insights can I get from my program?
We automate your buyer feedback into easy-to-digest reports and dashboards so you always know what's going on within your sales team.
Get insights around things like:
1. Top reasons for wins and losses (overall and by segment)
2. Individual rep performance
3. Opportunities for sales coaching
4. Competitive analysis (Including our automated Battlecards module)
5. And more!
No deal is out of reach. Learn how you can win more today.