EXAMPLE INSIGHTS
Your Organization
Hi there, check out the insights you could be receiving through Truvoice when you run a program with Primary Intelligence - straight from the voice of your buyer!
WIN-LOSS INSIGHTS
Uncover Why You Really Win and Lose at Your Organization

BEST PRACTICES
How to Win at Win-Loss Analysis
REP-LEVEL INSIGHTS
Dashboards for Each Sales Rep at Your Organization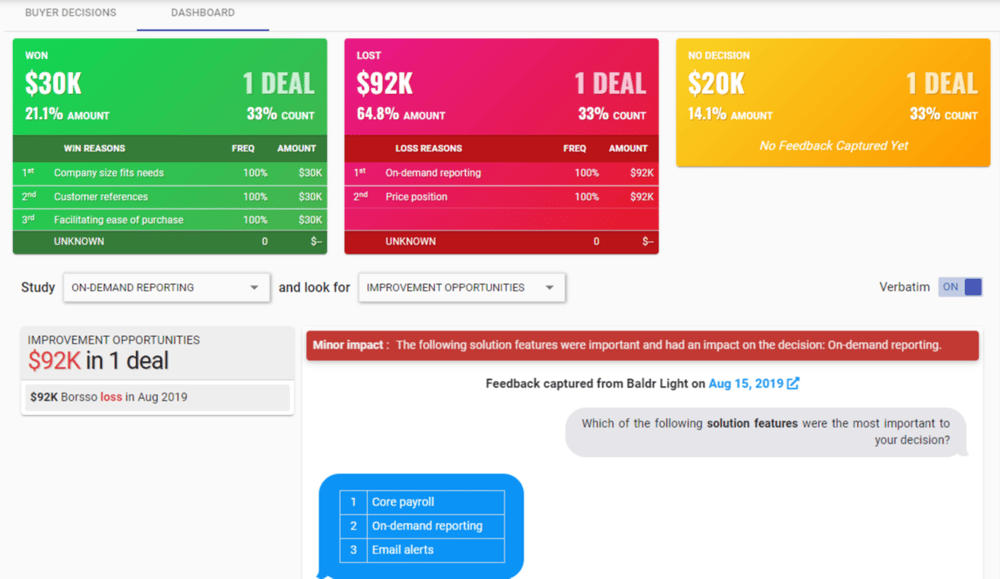 EBOOK
Using Buyer Feedback for Sales Coaching
BATTLECARDS
Competitive Intelligence for Your Organization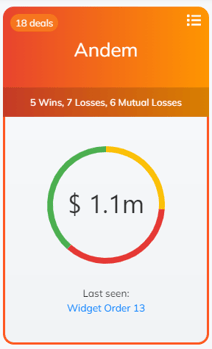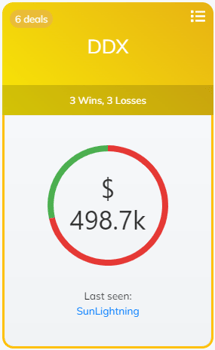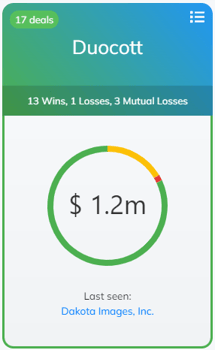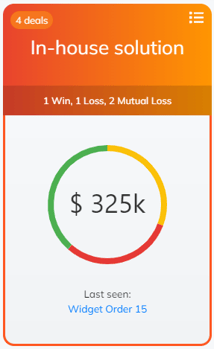 COMPETITIVE ANALYSIS
Understand what your competitors are doing to adapt and how you can stay ahead.
BUYER FEEDBACK
Read and Listen to Feedback Directly from Your Buyers
The biggest problem was talking to the salesperson about what could be done and what could not be done in terms of the integration and implementation. Whenever we asked the salesperson, 'Will we be able to port this information over?' it wasn't ever a case of, 'Yes, it will.' It was always a case of, 'I think so. Let me go check,' or, 'I'm pretty sure.' When you're spending this amount of money for a solution, you don't want, 'I guess it will,' or, 'I'm pretty sure it will.' We want confident answers. We want clear cut, 'Yes,' or, 'No.'
ARTICLE
Why Buyer Feedback is a Crucial Source of Sales Intelligence
WINNABLE DEALS
Find Out Which Deals Were Actually Winnable for Your Organization

PRICE POSITION
How does price affect win rates for Your Organization?


INSIGHT REPORT
How to Win at a Higher Price
PRODUCT
See Feedback About Your Product



CUSTOMER EXPERIENCE INSIGHTS
Prevent Churn for Your Organization
Your pain? We understand. This is why we do what we do, and can provide you with an experience like no other.



No Deal is Out of Reach.
Learn how to increase win rates with Sales Experience Analysis today.
BLOG
Why Buyer Feedback is a Crucial Source of Sales Intelligence
Sales intelligence is a hot topic right now for B2B organizations. Many providers promise to collect valuable sales intelligence data to help empower your reps throughout the sales process and empower your marketers to optimize the buyer's journey. While most of these providers do deliver helpful data, your sales intelligence must provide a complete and accurate profile of your prospects to be most effective. This is why buyer feedback is a crucial data source for sales intelligence.
LEARN MORE